Waters of the United States
The Navigable Waters Protection Rule (NWPR) is in effect as of June 22, 2020. The U.S. Environmental Protection Agency and the U.S. Army Corps of Engineers issued the final rule on January 23, 2020. Visit EPA's website for the rule at https://www.epa.gov/nwpr; and the Corps website at https://www.usace.army.mil/Missions/Civil-Works/Regulatory-Program-and-Permits/. Click here to read the preamble to the rule and the regulatory text in the Federal Register.
At this point, the NWPR is in effect in 49 states as well as the District of Columbia. As per a ruling on June 19, 2020, a judge issued a preliminary injunction for the state of Colorado. In Colorado, the prior regulatory regime (that has been in place since 1986 and 1988) as well as prior guidance incorporating related U.S. Supreme Court decisions will stay in effect.
* * * * *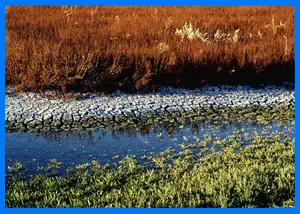 At one time, wetlands were thought of as wastelands. However today, there is a much greater understanding of the roles wetlands play in our ecosystems. Wetlands help maintain water quality by slowly filtering excess nutrients, sediments, and pollutants before water seeps into the nation's rivers, streams and underground aquifers. They offer a breeding ground and/or habitat for fish, wildlife, and plants. The EPA estimates that more than one-third of the United States' threatened and endangered species live only in wetlands and nearly half use wetlands at some point in their lives.
The CICA Wetlands section contains useful features that will help you understand the regulations and find out how to comply. Also, there are links to related resources. Here's what is available:
Follow the links on Other Resources to find out more about the various types of wetlands found in the U.S. and their environmental significance.